Day 3 of our series of blog posts following Sally's experiences taking the Memory Box to the USA thanks to a Cultural Exchange funded by the British Council and Los Angeles Department of Cultural Affairs 
Day 3 – Monday 16th September
Aside from what is becoming my regular 2.30am wake-up call from my jet lagged brain, I'm settling in to my LA Cultural Exchange Fellowship really very well.
The British Council
My first meeting this morning was with Sophie Nazerian, who is one of two representatives for the British Council here on the West Coast. We met at the very swanky 'Bottega Louie' S Grand Av and 7th Street. If you haven't been and you're in the neighbourhood, you really should! Without sounding too cliché, I was really beginning to miss a proper cup of tea! Although it has to be said that my favourite comment of the day goes to our waiter "unfortunately we don't have any green tea left, so I brought you Earl Grey instead…it's pretty much the same thing'. So, over tea and macaroons we discussed the residency and what I have planned for my two week stay.
Just to fill you in, my residency is a pilot programme developed with the aim to build arts and cultural links between the West Coast and the UK. The scheme was initially targeted at individuals, with three selected from the US in the first phase and three from the UK in the second. These individuals were chosen to be International Cultural Exchange Fellows. I'm the first of the three to come across to LA, and Sophie explained that each of the selected three have very different creative practices and plans, which is what she's looking forward to seeing develop the most.
Her future plans for the programme are to target organisations instead of individuals, in order that they gain a greater level of support and that their exchange is impactful on a greater number of individuals. The other major difference this affords is that the exchange can then be reciprocated between organisations. My application was accepted as an individual working for Flo-culture, so I can certainly see the benefits of having that wider support.
After an hour we parted ways, but with the intention of meeting up again towards the end of my residency.
Welcome
At 12.30pm I was due to meet Kim Creighton, Digitisation librarian at the City Library. She had very kindly offered to take me out for a 'welcome' lunch along with a number of colleagues who have supported the exchange and who I will be working with during the coming weeks. So, along with Kim, there was Ani Boyadjian, Principle Librarian; there was Emma Roberts, a fellow Brit who works within the rare books section of the library; and Dawn Coppin, Director of Foundation and Corporate Relations for the Library Foundation. They took me to lunch at 'Industriel', an American / French restaurant on S Grant Ave and W 6th Street in the Financial District. The food was fantastic.
Lunch was a great opportunity to get to know everyone, the level of enthusiasm for the exchange was very apparent. There was some chat about why this residency is important to them, and how it is a completely new way of working for them. Much like the libraries within the UK, there is an apparent thirst for innovation. The staff are keen to try new things, especially where digital and the arts are concerned. Many of the challenges they face are much the same as the ones facing the libraries in the UK. The US government are about to roll out a very similar act to the Conservative's 'Digital by Default' act, so incorporating that new work as well as offering the relevant level of support to their library users is going to be a new challenge for them to face in the coming months.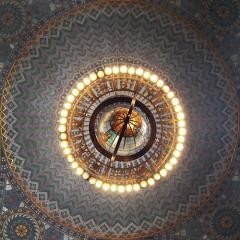 After lunch we headed back to the library for a brief tour and planning session regarding how this week's workshops are going to be delivered. The library itself is beautiful, with truly stunning architecture. The inside is an odd mix of old and new, but the children's literary department is simply beautiful. Quiet, welcoming and exquisitely laid out with many of the building's original features, including a wall frieze that covers the majority of the ceiling and wall space; it's hardly surprising that the City Library is bustling with such a wide spectrum of users.
Art and architecture
In the afternoon I took a couple of hours out to explore the neighbourhood. I'm amazed by the range of architecture in Down Town LA. It's not what I had expected at all. There is a real mix.  From very beautiful art deco buildings that give you the sense that you're actually in NY, to contemporary and daring architecture butting up against the old. The Library itself was obviously a major landmark feature when it was built in 1920, but it is now nestled within a host of skyscrapers that dwarf the building to almost playhouse proportions. I guess I can understand yesterday's architecture comments about 'California-ness' now.  The city really feels like an open book ready for bold statements and experimentation.
I can't sign off today's blog without commenting on the public artwork. It feels like there is a statement artwork on every corner. If you ever have chance to visit, I'm told that there is a very good walking tour, in fact there appears to be a walking tour available for most things of interest.
Sally
Enjoyed this post? Follow Sally's adventures taking the Memory Box to Los Angeles from the beginning.
You can find out more about the Memory Box here.
Enjoyed this post? Start at Day 1 of Sally's adventures taking Memory Box to Los Angeles. Or you can carry on to Day 4.