Introducing Memory Box for iOS 7! Apple's new operating system will be launching next week and we are finally able to unveil the brand new Memory Box app complete with screenshots.
iOS 7 is fast approaching, Apple yesterday announced the release date: 18th September. The new iPhone will also be released on 20th September. The public can finally see all of the hard work Apple and other developers have put into the OS and the apps associated with this new style. We've previously covered the OS version and the main development changes in this post and the iconography and visuals in this post. We've been working hard developing the new Memory Box app over the last few months but as the app has been specially designed for Apple's new iOS 7 platform, we've had to keep it under wraps. As iOS 7 is no longer in beta form we can now publicly unveil the brand new Memory Box app! See the screenshots below.
Memory Box is designed to be a platform where users can find, listen to and view stories. The previous app version did not suit this purpose and had a number of issues with compatibility with the devices we want to support. It was very important to develop version 2 as a platform that can continue to grow. Although users can't create their own stories at the moment, this is certainly planned in the next few months, first with a fully functioning website and then with the app. To make our vision a reality we needed to re-write the entire system from scratch – every single part of the application is new and has been developed in-house over the past two months.
This update brings with it major changes, features and brand new stories. The update feature list is highlighted below :
A complete re-write of our app from the ground up for iOS 7
iOS 7 features throughout app including Airdrop, transparency and visuals
New features section with editors choice and features
Interactive timeline scroller to see stories through decades
10 exciting new categories to sort stories by
See new stories from our partners in collections
Even more stories to listen and view offline
Each story is now an audio visual instead of video
View map view in satellite or standard view
Portrait mode in iPhone, landscape mode in iPad
Retina graphics throughout
Story viewing is faster
See a map of the story on each view
Share stories using share sheet to Twitter/Facebook
Reduced file size considerably
As you can see, this is a major update that will mark a new beginning for Memory Box. The app will be actively updated seasonly with new editors, features and stories. This will be an offline update that allows you to listen to stories anywhere such as on trains and even on a plane.
The new design is clearly a major improvement (see screenshots) from the previous version. Each screen has been carefully designed and follows the principles that Apple encourage developers to use in iOS 7. The user interface doesn't get in the way of the content, which is the key part of Memory Box.
Memory Box has been submitted to Apple for approval and should launch on September 18th with iOS 7. Make sure you update your device to the new operating system before updating the application. Look out for further updates including the mechanism to upload your own story to Memory Box in the App Store soon.
 Featured page – updated seasonally with a new editor and specially curated featured stories.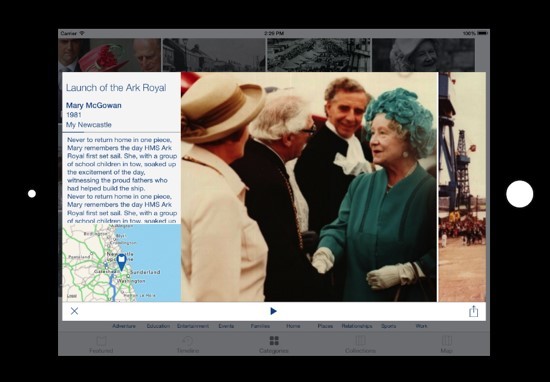 Listen and view stories with audio recordings of the author's own voice paired with personal and library archive images. 
The app is also compatible with iPhones that have updated to the new iOS 7. 
Stories are searchable by category, timeline and map view.